/ Sagrada Familia / Fachada Pasión / Escuelas, Claustro y Nave Lateral / Nave Lateral / Higos + Frutos en las Naves Laterales
---
Higos - 2009 -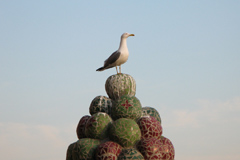 Restauración y reparación del cesto de manzanas en este pináculo del ventanal exterior de la Nave Lateral.
La naturaleza, entre otras a través de esta gaviota, hacen mella en las esculturas que representan frutas de Etsuro Sotoo.
Figs - 2009 -
Restoration and repair of the basket of apples in this pinnacle of the exterior window of the Lateral Nave.
Nature, among others through this gull, make a dent in the sculptures from Etsuro Sotoo that represent fruits.