/ Sagrada Familia / Fachada Natividad / Claustro y Nave Lateral / Nave Lateral + Frutos en las Naves Laterales
---
Nísperos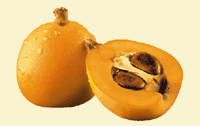 Cesto de nísperos del escultor Etsuro Sotoo que representa las frutas con esferas de colores recubiertas con mosaico policromado.
El níspero es un fruto primaveral presente en huertas y jardines de muchas zonas de la costa mediterránea. Tiene forma semiesférica, su piel es fina y dura, de color amarillo anaranjado intenso, su es pulpa de sabor dulce y ácido a la vez y alberga en su interior grandes semillas marrones.
Medlars
Basket of medlars from the sculptor Etsuro Sotoo who represents the fruits with colored spheres coated with polychrome mosaic.
The medlar is a spring fruit present in orchards and gardens of many mediterranean coastal areas. It has a hemispherical form, its skin is thin and hard, of intese yellow-orange color, its pulp is sweet and sour at the same time and has large brown seeds inside.